Regular price
₱499.00
Sale price
₱489.50
Unit price
per
Sale
Sold out
Katharē shampoo and conditioner bars only use locally sourced and naturally derived ingredients. It has no harmful chemicals, unlike traditional shampoos with chemical-laden formulas.
This Eco-Value Bar set contains one 80g shampoo bar and 50g conditioner bar which can last up to 4 months (60-80 washes)
Confused about what variants to try? Take the hair quiz now!
Combo variants
💜 Lavender Lover: Lavender-Peppermint (Sh) and Lavender Lover (Con)
💕 Strawberry Lemon: Ginger Lemon Zest (Sh) and Strawberry Lush (Con)
💚 Coco Aloe: Tea Tree Aloe (Sh) and Coco Dreams (Con)
🧡 Gugo Loco: Gugo Extract (Sh) and Gugo Loco (Con)
🤍 Morning Tea: Morning Dew (Sh) and Green Tea (Con)
Shampoo Bar Features:
LAVENDER-PEPPERMINT (cleansing and detox) Peppermint soothes itchiness and irritation, while lavender has antimicrobial and antibacterial properties that can help improve scalp health. Great for cleansing and detoxifying hair and scalp
GINGER LEMON (hair growth) Ginger essential oil contributes to the health and cleanliness of the scalp, soothes dryness and itchiness, and enhances healthier hair growth by stimulating and improving circulation to the scalp.
TEA TREE ALOE (dandruff treatment) Tea tree oil provides potent cleansing, antibacterial, and antimicrobial capabilities, while Aloe Vera washes greasy and dandruff-prone scalps deeply. People who want to keep their scalp healthy and get rid of dandruff should use this product.
GUGO EXTRACT (hair fall treatment) The Gugo Shampoo Bar is infused with a blend of nourishing oils, such as Vitamin E-rich Almond Oil and Gugo Extract to help get stronger and less hair fall, while D-Panthenol improves the scalp, and prevents itchiness so you don't have to keep scratching your head. For strong hair, look no further than Gugo Extract! It promotes hair growth, prevents hair fall, and strengthens your hair to make it fuller and thicker.
MORNING DEW: 
This mild shampoo bar contains no essential oils and is perfect for those with sensitive scalps. Experience your best hair days without worry!
With D-Panthenol/Vitamin B5 helps protect your hair from styling or environmental damage by locking in moisture. The classic variant without added extracts and essential oils
Shampoo Bar Ingredients:
SCI (Sodium Cocoyl Isethionate), Coco Betaine, Jojoba Oil, Coconut Oil, Keratin, Glycerin (Vegetable Origin), Vitamin B5, Phenoxyethanol, Natural Colorant, Essential Oil
Conditioner Bar Features
COCO DREAMS - Classic and plain but rich in raw cocoa butter, and virgin coconut oil, and has a sweet coconut scent.
STRAWBERRY LUSH - Packed with Shea Butter, cocoa butter, keratin, vitamin B5, avocado oil, and coconut oil.
LAVENDER LOVER - Gives ultimate shine to your hair. Packed with cocoa butter, shea butter, Moroccan argan oil, keratin plus, vitamin B5, and lavender essential oil Shampoo
GUGO LOCO - Formulated to reduce hair loss and make hair thicker, fuller, and silkier, this conditioner bar is a moisturizing alternative to regular conditioner. Enriched with nourishing coconut oil for hair growth and keratin for healthy hair, this all-natural conditioner hydrates your scalp without the build-up of regular conditioner.
GREEN TEA - Made with a base of rich moisturizing butter and conditioning oils like coconut oil, avocado oil, jojoba oil, and argan oil. It's packed with vitamins and minerals from organic fruit butter & amp; oils to leave hair stronger, softer, and more manageable.
Conditioner Bar Ingredients:
Behentrimonium Methosulfate, Cetearyl Alcohol, Stearic Acid, Cetyl Alcohol, Theobroma Cacao Seed (Cocoa) Butter, Peg-8 Beeswax, Butyrospermum parkii (Shea) Butter, Cetrimonium chloride, Sodium Lactate, Avocado Oil, Coconut Oil, Keratin, D-Panthenol (Vitamin B5), Phenoxyethanol, Fragrance Oil, Mica
Share
Why ecobars are better than liquid hair care products?

Traditional Liquid Shampoo vs. Ecobars

Traditional liquid shampoos often come in plastic bottles that are not biodegradable, and they can take up a lot of space in a travel bag. Many liquid shampoos also contain harsh chemicals that can be damaging to the hair and scalp. On the other hand, shampoo bars usually come in minimal or recyclable packaging, and they often contain natural ingredients that are good for the hair and scalp.

Shampoo bars are a more eco-friendly and convenient alternative to traditional liquid shampoo. They can help reduce plastic waste and are easy to use while traveling. Additionally, shampoo bars are made with natural ingredients and are gentle on the hair and scalp.

Join the eco-friendly movement and switch to shampoo bars today! Not only will you be reducing your plastic waste, but you'll also be taking care of your hair and scalp with natural ingredients. Try our shampoo bars now and see the difference for yourself.
What is Transition Period?

Transition period occurs when you switch from traditional liquid shampoo and conditioner to shampoo and conditioner bars. During this time, your hair and scalp may need time to adjust to the new products. You may experience a range of symptoms, including dryness, oiliness, and increased tangles.

Lila teaches us how to deal with the frustration of experiencing a Shampoo Bar transition period.
How to use Shampoo and Conditioner Bars

Shampoo bars are meant to clean your scalp. Rub the bars onto your palms until it lathers. Massage your scalp until it lathers your scalp completely. Make sure that you only use the shampoo on your scalp.

Conditioner bars are meant to moisturize and nourish your hair. Rub them onto your hair until it forms a creamy consistency.
How to Use Mango Summertide

1. Apply while your hair is damp or wet. You may also use it on dry hair.
2. Cup an almond-sized amount of cream into your palms
3. Apply to your hair conservatively until it thinly covers most of your hair strands. It is better to comb your hair so it gets distributed evenly.
4. Air dry or use a diffuser, style as usual.
How to Use Midnight Spell

Using Midnight Spell is very easy. Follow the instruction and use them weekly to get the desirable results!

1. Simply apply the product to damp hair, focusing on the ends and avoiding the roots

2. Leave the conditioner in for 5-10 minutes

3. Rinse thoroughly with water for soft, moisturized hair.

4. With regular use once a week, you will notice a significant improvement in the quality of your hair.
Shipping

We ship your orders within 24-48 hours upon order.

Disclaimer: Lead time is different on pre-order items. Read through the product page to know the lead times for pre-order items.
Return policy

If you did not like our products, kindly message us first on our Facebook, Instagram, or Tiktok account so we can assist you with the refund. Refund will be processed once approved.
As seen on Tiktok
View full details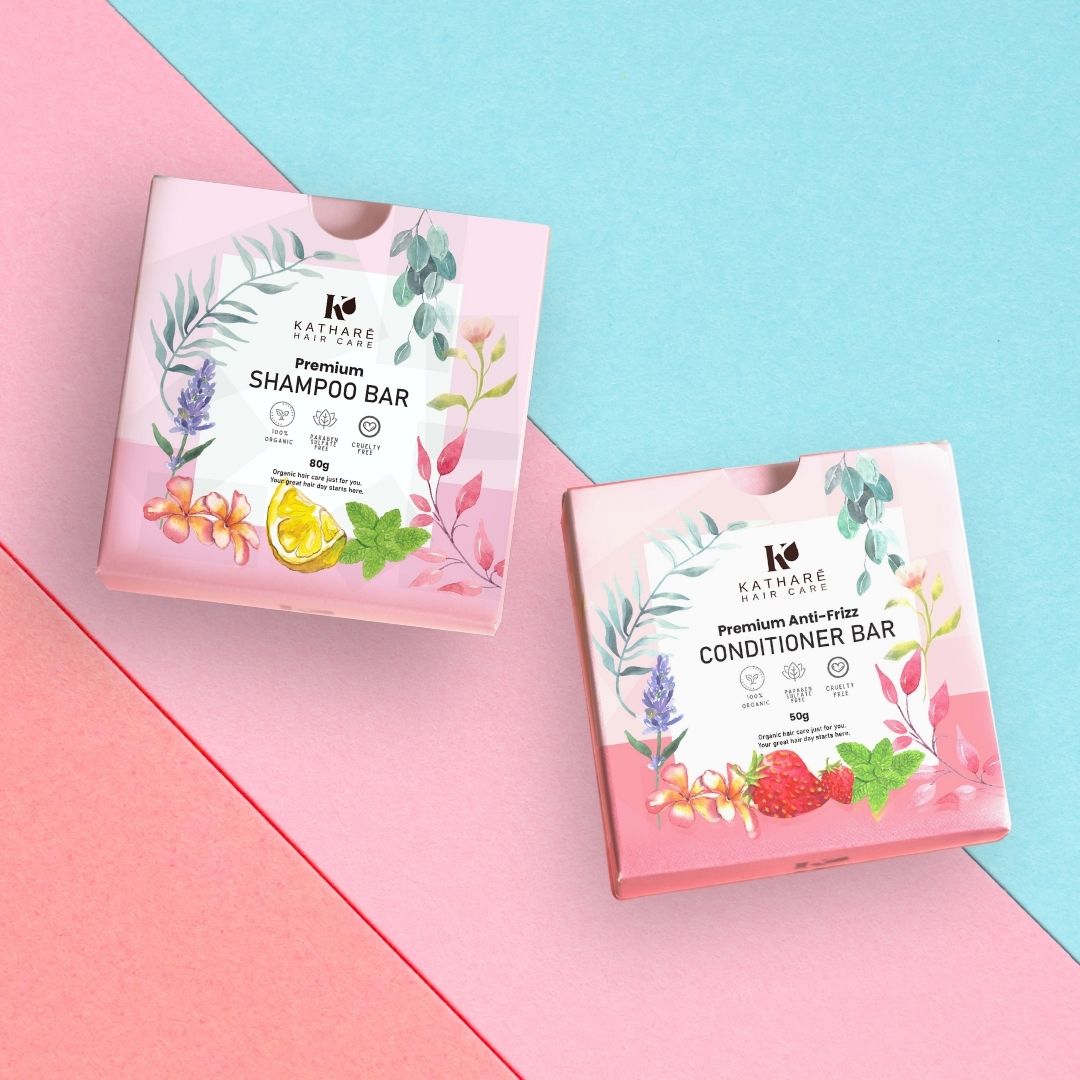 Take the Hair Quiz
Know which shampoo and conditioner bars are best for your hair type. Take the hair quiz now.
3-Step Frizz Free Formula
Scalp health

Scalp health is the most essential part of every hair care routine. Solve your scalp concerns first, then healthier hair will follow.

Protein and Moisture Balance

Dry and frizzy hair is ALWAYS caused by a lack of moisture in the hair or a protein overload. Striking the right balance is our priority.

Low-Maintenance Aftercare

We at Katharē want to simplify your hair care routine by offering you an after-care guide to frizz-free hair. Essentially, low-maintenance aftercare consist of the following (t-shirt, a good scrunchie, and a good satin pillowcase)
Let's be more eco-friendly! Donate and plant a tree!